The My Weigh WR12K is a water resistant, very high-capacity bench scale with a dual LED display and a rechargeable battery.  The entire housing of the WR12K is IP 66 certified water resistant, so the scale will stay protected from outside elements.  The WR12K also has a large stainless steel body / bench tray, a high-precision counting feature and a dual (front & back) backlit LED display.
Let's start with the rugged, professional design: with a P66 Waterproof designed body, this scale was carefully formed to help withstand almost any water situation – yes, this scale is tough! The Stainless-Steel platform measures 8.5″ x 7″, so you have a good amount of space to weigh your items as well as an easy platform to clean when the job gets dirty. With four weighing modes (Kilograms, Grams, Pounds & Ounces), an easy-to-read numerical display, adjustable Leveling-Feet, Level-Bubble (to help target even weighing surface), dual-sided display (excellent for showing weighing results to an audience), a charging indicator with built-in rechargeable battery & included AC-Adaptor that lets you know the scale can be used in 'battery-mode' (excellent for travel), this scale was built with durability in mind.
One of the best features that the WR12K offers is the innovative 'Touch-Key' feature: this allows the user to easily place their finger on a button without having to press it. This feature is amazing & helps the longevity of your scale as well since you won't have to worry about buttons breaking. If you're looking for a tough scale with the ability to last, definitely add this scale to your list.


Power
Rechargeable battery
AC adapter (included)
Display
Red, LED (2 displays)
Tare Feature
Yes
Calibration Feature
Yes
Hold Feature
No
Count Feature
No
Platform Size
8.5″ x 7″
Scale Size
10.9″ x 9″ x 5.5″
Weighing Modes
4
WR12K Weighing Modes
| | | |
| --- | --- | --- |
| Mode: | Capacity: | Resolution: |
| Pounds | 6 lb : 9.8 oz | 0.05 oz |
| Kilograms | 3000 g | 1 g |
| Grams | 12000 g | 1 g |
Share
View full details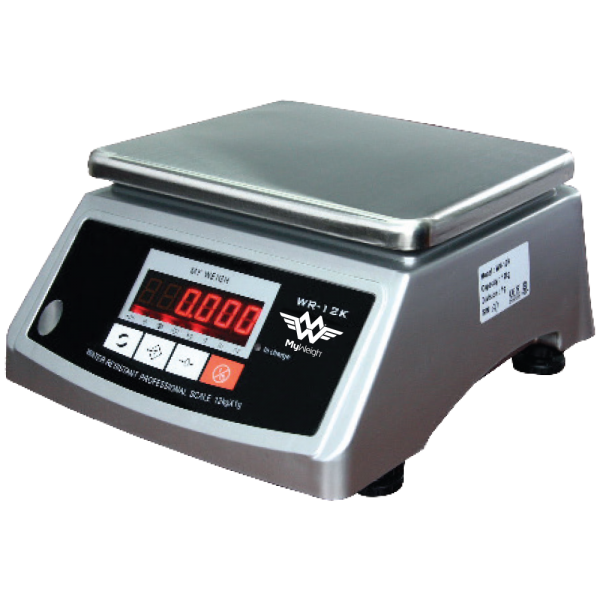 Get a 360° view of the TeltoCharge EV Charger.