The My Weigh UltraShip-U2 is the pinnacle of office-postal & shipping scales. It features a huge 6″ high-resolution LCD display with a bright-blue back-lit LCD display featuring TWO display lines – this is one of the best features of the UltraShip-U2. You can place a box on the tray and know its weight in BOTH Pounds and Kilograms (or Pounds and Ounces, or Grams and Kilograms, etc) at the same time!
The My Weigh UltraShip-U2 will save you both time & money. It was engineered at the companies German office to be extremely intuitive & easy-to-use by incorporating many features to make the time you spend weighing & recording weights faster, easier & more accurate.


Power
USB cable (included)
AC adapter (not included)
6 AA batteries (not included)
Display
Blue Backlit, Remote LCD
Tare Feature
Yes
Calibration Feature
Yes
Hold Feature
Yes
Count Feature
No
Platform Size
7.2″ x 6.8″
Scale Size
9.1″ x 8″ x 2.5″
Weighing Modes
4
UltraShip-U2 Weighing Modes
Mode:
Capacity:
Resolution:
Pounds : Ounces
0 lb – 2 lb
2 lb – 60 lb
0.1 oz
0.2 oz
Pounds
0 lb – 2 lb
2 lb – 60 lb
0.005 lb
0.01 lb
Grams
0 g – 900 g
900 g – 27210 g
2 g
5 g
Kilograms
0 kg – 1 kg
1 kg – 27 kg
0.002 kg
0.005 kg
Share
View full details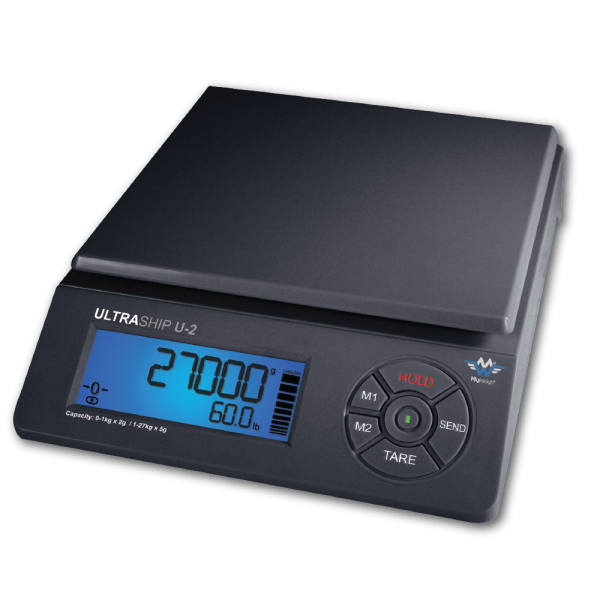 Get a 360° view of the TeltoCharge EV Charger.