The My Weigh UltraScale MBSC-55 (Ultrababy) is a baby scale that can also be converted into an office/shipping scale.  The Ultrababy scale has many useful features for weighing infants like a detachable cradle weighing tray, a removable/mountable display on a 2-foot flex cord, an advanced hold function and an adjustable auto-off.  The My Weigh UltraScale MBSC-55 can also be used as a shipping scale with the included letter holder attachment or the mail tube holder attachment.
Whether it is a toddler or newborn this scale will accurately do the task.The My Weigh UltraScale MBSC-55 (Ultrababy) has a programmable auto on/off feature, and displays weight in pounds, ounces, grams and kilograms. Plus the cradled weighing tray is perfectly for newborns and toddlers.


Power
AC Adapter (not included)
4 C Batteries (not included)
Display
Blue backlit, Remote LCD
Tare Feature
Yes
Hold Feature
Yes
Removable Cradle
Yes
Cradle size
10″ x 20″ x 3″
Scale Size
8″ x 6.3″ x 2.8″
Weighing Modes
4
UltraScale MBSC-55 Weighing Modes
Mode:
Capacity:
Resolution:
Pounds : Ounces
0 lb – 2 lb
2 lb – 55 lb
0.1 oz
0.2 oz
Kilograms
0 kg – 1 kg
1 kg – 25 kg
0.002 kg
0.01 kg
Grams
0 g – 900 g
900 g – 25000 g
2 g
10 g
Share
View full details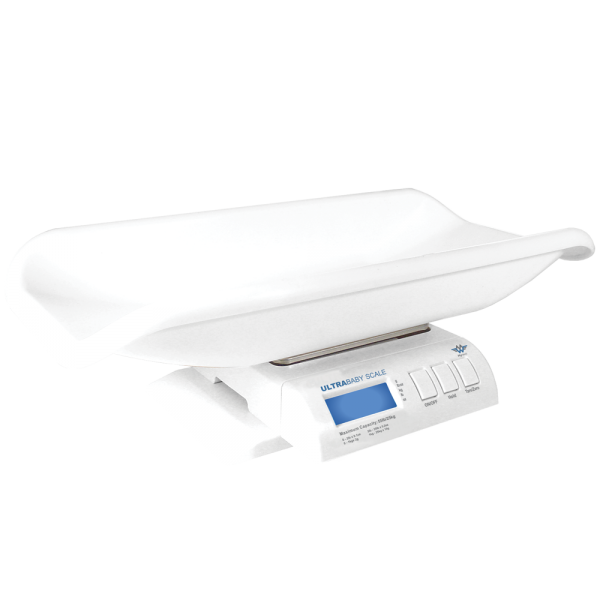 Get a 360° view of the TeltoCharge EV Charger.