The Kestrel e160i micro wind turbine is compact and virtually silent as it generates energy. Rotation speed is controlled by rotor turbulence, which accounts for the five-blade design and its quiet efficiency that can save fuel costs and replace noisy generators.
This small wind turbine exhibits a remarkable performance and is designed to give the owner many long years of trouble-free service.
The Kestrel e160i is installed around the world for powering public lighting, railway switching, and radio towers, as well as for educating children.
It is available in 24, 36, 48, 110 and 200 VDC.
Ideal Applications:
A complete solution for small power requirements
Charging batteries
Powering the national grid
Boosting hybrid systems for increased energy efficiency
Technical Specifications:

Small Wind Turbine Class

 II

 Maximum Power a

 700W

 Rated Output b

 600W

 Rated Wind Speed

 13.5 ms-1

 Cut-in Wind Speed

 2.5ms-1

 Generator Type

 Permanent-magnet

 Axial flux brushless

 Rotor Diameter

 1.6m (5.24ft)

 Number of blades

 5

 Blade Material

 Fibreglass

 Tower Top Mass

 30kg (66lb)

 Tower Height

 12-18m (39-59ft)

 Tower Type

 Monopole

 Overspeed Protection

 Rotor Turbulence

 Controller Type

 Charge or Voltage Limiter

 Output Voltage

 12,24,36,48,110 & 200Vdc

 Application

 Battery charging

 Grid tie

 Hybrid
Share
View full details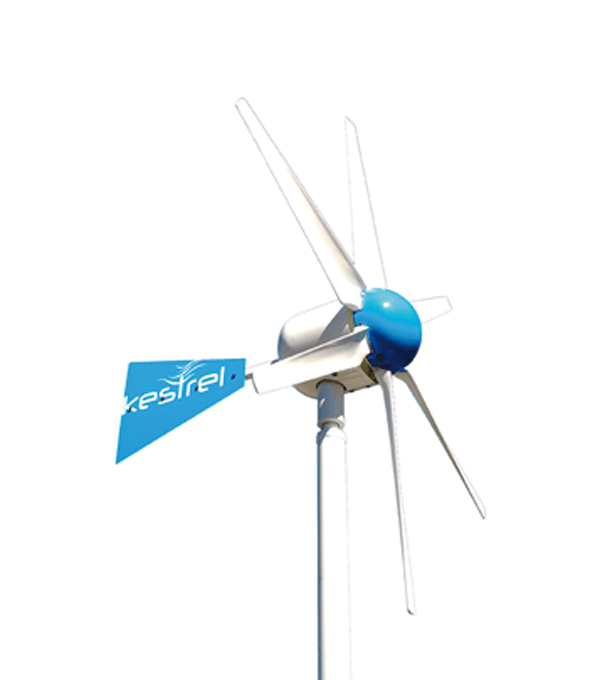 Get a 360° view of the TeltoCharge EV Charger.